Gilead's orchestrated HCV market development activity
Gilead's HCV franchise had a massive 2014, generating $12.4B in revenue for the full calendar year.  Gilead was able to successfully introduce two new, curative therapies to the market despite a challenging pricing and reimbursement environment.
While Gilead gets a lot of credit for developing innovative contracting arrangements with key payers/providers it also deserves praise for a well orchestrated physician engagement strategy.  In the chart below we highlight paid engagement activity over Dec 2013 – Dec 2014.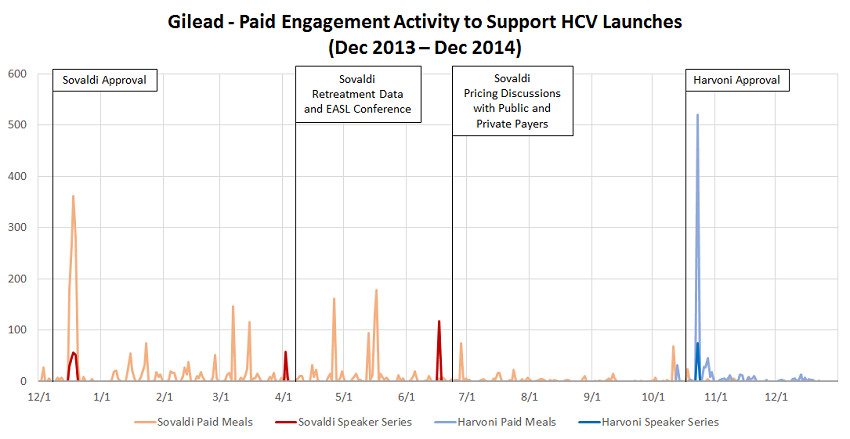 Timeline Observations
Sovaldi received initial U.S. approval on December 6, 2013 and Gilead supported commercial roll out with a speaker series and significant physician detailing (e.g., meals and education)
In Q1 2014 Gilead continued to engage with physicians through routine detailing each week
Q2 kicked off with a second speaker series to raise awareness around Sovaldi data that would be released in mid April (i.e., successful treatment of refractory patients and those with advanced liver disease) and closed with a third and final speaker series in June
Promotional activity in Q3 was limited
Harvoni received U.S. approval on October 10, 2014 and Gilead employed a similar approach to the Sovaldi roll out, leveraging a speaker series and physician detailing (e.g., meals and education)
Speaker Series Participation
If we take a closer look at some of the key individuals involved in Gilead's sponsored speaking events, we see broad geographic coverage as well as repeated involvement across the series.  A sample of participants is highlighted in the figure below.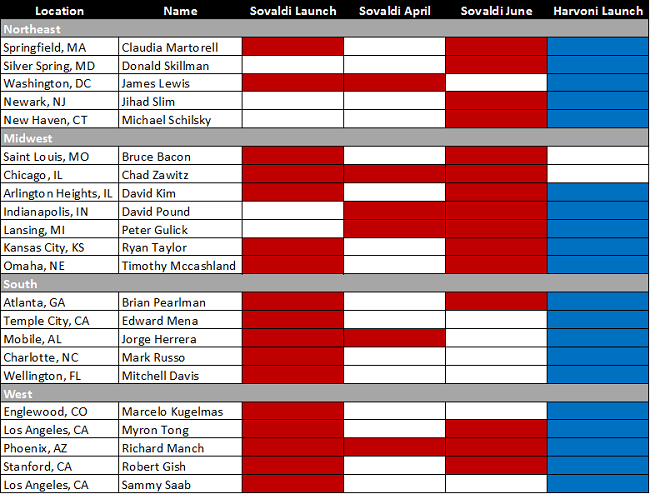 How we can help: MDDetails can help to benchmark competitor activity sequencing as well as identify key opinion leaders (e.g., researchers, consultants, and speakers) that may be engaged to support a drug launch or indication expansion.