Location of top research centers for checkpoint inhibitors
Immunotherapies targeting CTLA-4 and PD-1 have recently garnered a lot of well-deserved press, as they continue to radically improve the outcomes of patients with cancer. Keytruda, Opdivo, and Yervoy are now all FDA approved across several tumor types and are being actively explored in many more indications.
Using the MDDetails platform, we have mapped more than 140 clinical research sites for these agents by tracking research payments made to investigators and organizations.  A summary of this activity is highlighted in the map below.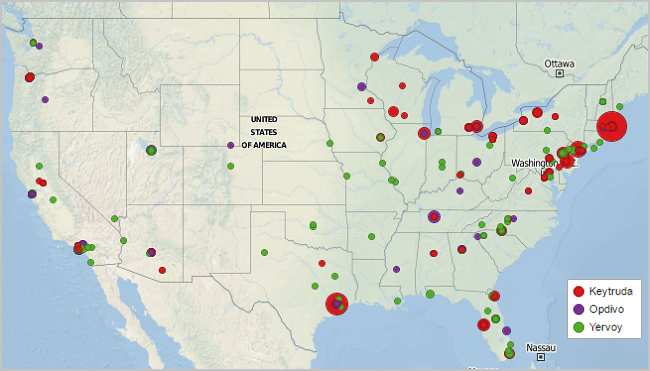 Note: Research centers have been sized base on the total value of research payments provided (i.e., largest circles represent millions of dollars of research support made by sponsoring company)
Several key observations can made:
The sheer number of active sites involved suggests considerable investigator interest and enthusiasm for checkpoint inhibitors
All three products have a significant presence at key cancer centers (i.e., MD Anderson in Texas, Dana Farber in Massachusetts, and Moffitt in Florida)
Yervoy activity is widely distributed as much of its clinical work now includes observational studies / expanded use whereas Opdivo & Keytruda activity is concentrated at a subset of centers conducting large proof of concept / pivotal trials
Companies looking to develop the next wave of checkpoint inhibitors (e.g., Roche, AZ) would be wise to identify / engage with emerging research sites and centers of excellence.
How we can help: MDDetails tracks research activity across nearly every therapeutic area and can provide a detailed characterization of established and emerging investigators/research centers.