Case Study: Characterizing experts, expertise, and relationships within PAH
Pulmonary arterial hypertension (PAH) is a serious condition caused by a rise in blood pressure due to thickening and loss of elasticity within pulmonary arteries.   Patients with advanced stage disease require specialized care and are typically managed by cardiologists or pulmonologists.  Using the MDDetails platform we examined opinion leader activity within this market.  The complete set of clinical and market development interactions for a set of 7 products were used to identify and tier PAH experts, as highlighted in the figure below.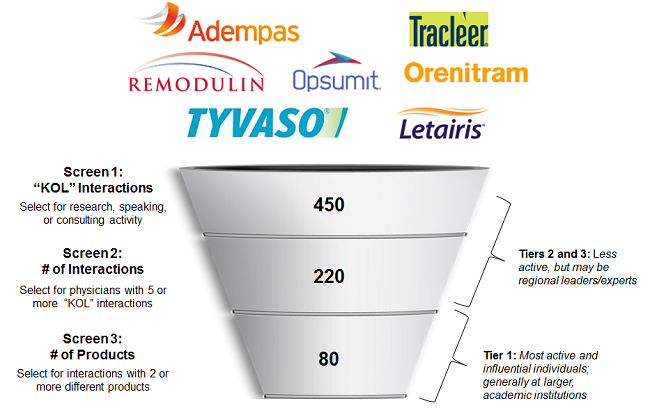 The initial set of 450 individuals were identified based on recent speaking, consulting or research activity for PAH products.  This list was further refined by selecting for those with repeated interactions across two or more products, yielding a top tier of 80 physicians.  "Tier 1" includes both nationally recognized principal investigators and as well as influential market experts.  We highlight activity for two "Tier 1" individuals below.
Principal Investigator Example:
Dr. Nicholas Hill is an accomplished clinical researcher who splits time between Boston and Providence, RI.  His 2014 clinical research interaction profile reveals involvement in a number of PAH trials across several products as highlighted in the chart below.  Note that the value axis indicates the number of payments / month provided to support ongoing research.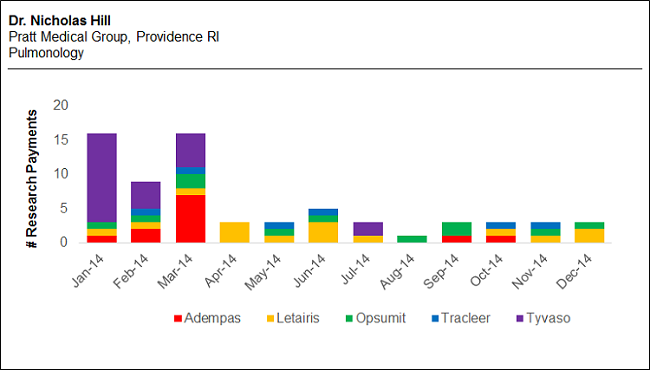 Market Expert/Influencer Example:
Dr. Hunter Champion is a PAH market expert located in Columbus, GA.  His 2014 speaking profile reveals involvement in a number of market development events – particularly for recently launched products (i.e., Opsumit, Orenitram, and Adempas).  Note that the value axis indicates the number of payments / month provided for speaking activity.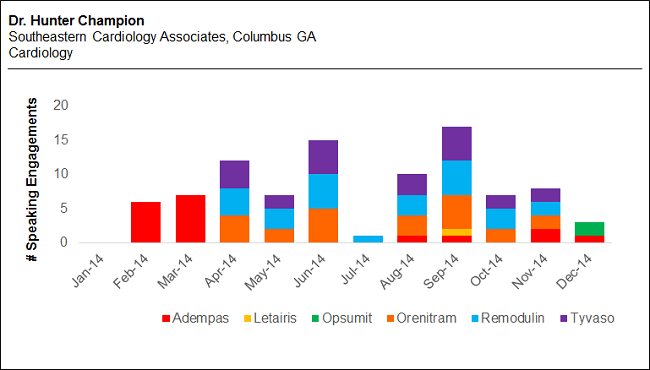 How we can help: MDDetails can efficiently identify and characterize clinical and market development leaders in more than 300 disease areas.  We have helped drug developers establish an initial set of market-specific experts as well as worked to augment existing lists built through more traditional methods.